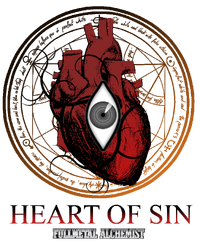 Overview
Heart of Sin is a story driven Fanon Canon that occurs ten years after the ending of Fullmetal Alchemist: Brotherhood. The world had been at peace for nearly a decade, but with malevolent forces working form the shadows and growing unrest within Amestris, how long can the peace last?
Users
Characters
Plot
Soldiers and Spies- Remnants of the regime of the late Fuhrer Bradly are at risk of falling into dangerous hands, unless the Hound of Amestris is able to prevent potential disaster.
Siblings in Arms- Leon is called to meet the new leader of Nightshade, whom he has not seen since leaving the group two years prior.
The Past 10 Years
At the start of Fullmetal Alchemist: Heart of Sin, roughly ten years have passed since the end of Fullmetal Alchemist: Brotherhood. Obviously, with Amestris having been left facing many serious changes at the end of the canon series, the ten years prior to the start of the Fanon Canon are also filled with changes, not just in Amestris, but the world of Fullmetal Alcehmist.
Continuity
Ad blocker interference detected!
Wikia is a free-to-use site that makes money from advertising. We have a modified experience for viewers using ad blockers

Wikia is not accessible if you've made further modifications. Remove the custom ad blocker rule(s) and the page will load as expected.