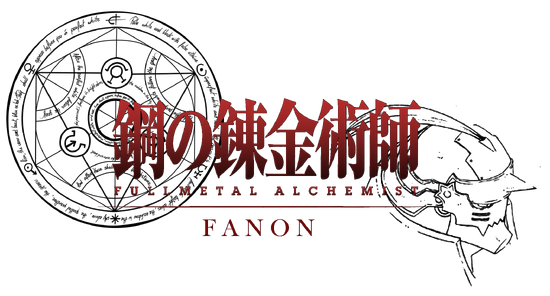 Welcome to the Full Metal Alchemist Fanon Wiki

A wiki of fan invention that anyone can contribute to.
Currently editing over 82 articles.
About this wiki | Parent site | Recent changes | Manual of Style

Featured Quote
"The power of one man doesn't amount to much. But, with whatever little strength I'm capable of... I'll do everything humanly possible to protect the people I love, and in turn they'll protect the ones they love. It seems like the least we tiny humans can do for each other."
—Roy Mustang
Featured Article
A member of Nightshade's second generation, Leon was raised as a warrior since infancy. His brutal upbringing is reflected in many aspects of his character, from his life's path as a mercenary, to his straight forward and blunt demeanor. Though a glimmer of decency can be found if one is willing to dig deep enough, most people that encounter Leon find themselves at the business end of one of his firearms or razor sharp knives.
Main Article: Leon Kershaw
Poll
Who is your favorite Homunculus?
Enter Amestris!
To create a new article, simply enter the article title in the box below:
Trouble getting started?
Recent Blogs
Create blog post
Latest Posts
Since it seems this wiki has been rather inactive as of late, I'm going to cut straight to the chase: it a vital matter to the health of this wiki to…

Read more >
See more >