Fuhler Steel Company
Classification
Organization
General Information
Established
1864
Founder
Marius Fuhler
Affiliation
State Military
Drachma (unconfirmed)
Location
Amestris
Headquarters
North City
Purpose
Mining, Industrial Manufactoring
Structure
Leader
Kerr Fuhler
Hans Fuhler (declared successor)
Form
Corporation
Opposition
Various independant steel producers
The Fuhler Steel Company is a large business corporation and one of the chief suppliers of steel in Amestris.
History
Organization
Headquarters
Affiliations
Competitors
Industrial Operations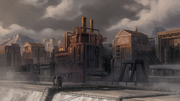 Trivia
Ad blocker interference detected!
Wikia is a free-to-use site that makes money from advertising. We have a modified experience for viewers using ad blockers

Wikia is not accessible if you've made further modifications. Remove the custom ad blocker rule(s) and the page will load as expected.